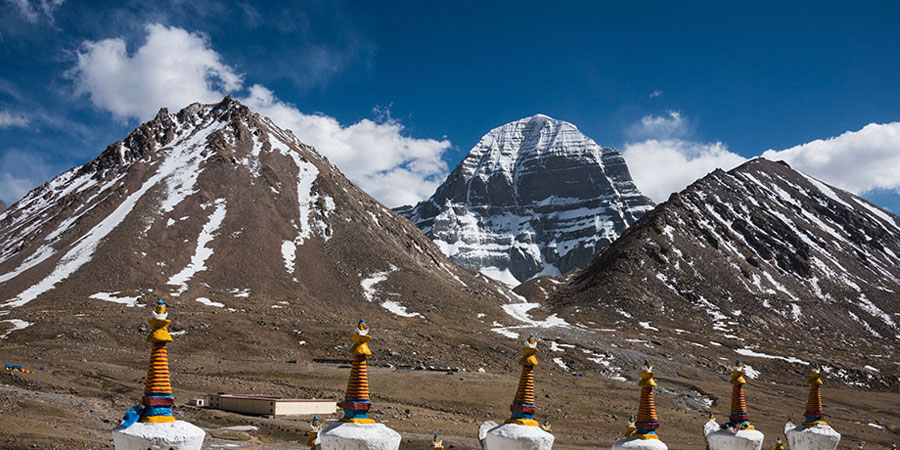 Tibet Kailash trekking tour
Tibet Kailash trekking tour is one of tthe exciting package tour in Tibet. Tibet Kailash Mansarovar tour discover the superb Himalayan views of Holy Mt.Kailash , holy mansarovar lake, Tibetan Monasteries, Potala palace , ancient Tibetan village , beautiful landscape , Tibetan culture and their warm hospitality. Tibet Kailash tours has been led various trip to Mount Kailash, the holiest of all the holy mountains, the spiritual junction for both the Hindus and Buddhists, is situated in the western part of Tibet. The pilgrimage tour to Mt. Kailash and Lake Mansarovar is a journey into a remote and secluded land where one seems to leave behind one's material attachments as they travel towards the holy lake.
Kailash Mansarovar pilgrimage tour led scenic drive onto the lush vegetation of conifer, rhododendron and oak trees via the semi deserted windswept landscape to the highest plateau in the world. You can see the numbers of isolated villages, kailash tours' tents with flocks of sheep, domesticated mountain goats and yaks grazing at the vast field. Mt. Kailash (22028 Feet), considered to be a physical incarnation of the mythical Mt. Meru, is believed to be the most sacred mountain in the world. Mt. Kailash is snow dusted rock pyramid is located in the scenically rich area of western Tibet, which lies between the Himalayas and Karakurum ranges. Himalaya Journey Trekking create Tibet Kailash tour itinerary as below mentioned but trip may change or extend as per travelers holiday frame.
In reality, the entire region of Mt. Kailash is of important religious significance and includes the two turquoise-blue, pristine high-altitude lakes of Mansarovar and Rakshesa. Mt. Kailash is regarded holy by followers of several religions. To Hindus, Kailash is the abode of Shiva and nearby Manasarobar Lake, the soul of Brahma. Tibetans call Kailash Kang Rimpoche. Jains worship it as Mt Ashtapada, the peak from which the religion's founder, Rishabanatha, achieved spiritual liberation. And the followers of Bon-Po, the ancient pre-Buddhist shamanistic religion of Tibet, revere Kailash as the soul of Tibet. Another most attraction of the Tibet Kailash tour, the Mansarovar Lake an expanse of sparkling blue water sprawling over several miles, believed to be the seat of Brahma (the Creator of Universe) and the snow capped Mount Kailash is considered as the abode of Lord Shiva and his consort Parvati.
The entire Kailash circuit trek is the holiest of all the Tibet's pilgrimages, an oasis of peace and serenity and the beacon that draws the many travelers to the western Tibet every year. It is said that a single circumference erases the accumulated sins of a lifetime while 108 circumferences achieve the Salvation or Nirvana. For Tibet kailash tours , there are several routs to reach through Nepal Kathmandu overland journey to Kailash, Kathmandu fly to Lhasa then overland journeys to Kailash, Nepal simikot kailash tours and Beijing Chendu Lhasa then overland journeys to Kailash. We Himalaya journey Treks & expedition will arrange the kailash package tours according to travelers/adventures seekers holiday schedule and wish with life time unforgettable journeys!!
Fixed Departure Dates
May 2022: 3rd, 6th ,10th, 12th , 16th , 24th, 26th ,28th
June 2022: 2nd ,4th, 6th, 9th, 14th, 18th, 25th,27th
July 2022: 3rd, 5th, 8th, 10th, 13th, 16th, 21st, 24th, 26th, 28th
August 2022: 4th, 5th, 7th, 11th, 16th, 19th, 21st, 24th ,26th, 29th
September 2022:2nd,5th ,7th,11th, 13th,17th, 19th, 23rd, 25th,28th
Tibet Kailash trekking tour itinerary:
Day 01: Arrive in Kathmandu, Himalaya Journey Treks & Expedition airport representative will transfer to hotel, Tibet Kailash Mansarovar tour briefing with officially arrangements .overnight at Kathmandu.
Day 02: After breakfast , HJT representative will take your original passport for issue the Tibet Visa at Chinese Embassy Kathmandu and After breakfast, Himalaya Journey tour guide will take to for historical monuments sightseeing in kathmandu valley such as Boudhhanath : visit Bodhnath Stupa, one of the best Buddhist shrines in the world, where we observe Buddhist monks in prayer in the monasteries surrounding the stupa than visit Pashupatinath: the most famous Hindu temple in the country, located on the banks of the holy Bagmati River. Here you see Hindu holy men (sadhus) meditating, pilgrims bathing and occasionally funeral pyres burning on the ghats. Kathmandu durbar square: you will enjoy with different Hindus Temple , Goddes Kumari, legend of kathmadu valley etc and prepare for Tibet tour. Overnight at Kathmandu..
Day 03: Drive to Nylam (150km), 3750m:
Morning after breakfast leave Kathmandu to commence yatra to Nyalam [3750M]. We reach Friendship Bridge [Nepal – China Boarder] by mini-coach. Walk along for 10 minutes to cross the bridge and there get acquainted with Chinese guide and land cruiser drivers. They will give a brief information regarding the further trip then proceed the journey to Zangmu, where all the immigration and custom formalities are ought to be accomplished. After the accomplishment of all formalities, we proceed to Nyalam. Arrival at Nyalam and overnight stay at guesthouse.
Day 04: Rest Day at Nylam, 3750m:
It is more a day for acclimatization.
Day 05: Saga/4450m: (Labug-La 5150m, Peku-tso and Saga, 232km)
On the first long driving day over the sandy and rocky land of Tibet, other things like lake, nomads chasing thousands of yaks and sheep keep you busy. By the late afternoon you will cross Bhramha Purtra River way to typical Chinese and Tibetan town, Saga for night.
Day 06: Paryang (4600m) 230 km 7-8 hrs:
Jeeps and trucks roll on the wide valley following rivers and grazing land of yaks and sheep. Far south you can see snow covered peaks near by you, lots of rocky peaks and sand duns give you an ideal world. Depends on season, nomads and other mobile shopkeepers are attired by beautiful traditional costume, waiting your arrival with hot tea and other supplies along with big smile.
Day 07: Drive Paryang to Manasarover (4558m) 277km 8 hours:
The longest driving day starts with full of excitement, by the late afternoon you can have the first sight of Holy Kailash Parbat and Manasarovara. Hore, a small village near by Lake Manasarover.
Holy-Manasarovara: At 14950-ft/ 4558m. The highest lake of fresh water with turquoise complexion in the world is full of fishes and swans. Holy Kailash Parbat, Mt. Gurula-Mandala, Lake Rashekshi are lying on its surrounding. The region is considered rich for gold and other mines, hot springs and hundreds of wild living creatures. Night will be spending at Chu Gumba.
Day 08: Puja and drive to Tarchen (14975ft) 40km: Manasarovara is the lake of compassion, tranquility and bliss. After completing the memorable morning Bath and Puja we will be heading towards Tarchen. It is considered as a base camp for the Holy Kailash Parikrama.
Day 09: Trek to Dehara Puk/5000m: It is one of the exciting days walking along the beautiful rocky cliffs; water falls with some clouds in the clear blue sky make you feeling that Great God Shiva is every where with tons of blessing to you.
Time to time the face of Kailash Parbat will be keep on appearing. For 15 km trail it takes almost 7 hrs.
Day 10 Hardest but Holiest day of your pilgrimage Yatra with Dolma-La (pass) of 18600ft between two valleys: Yamasthal should be crossed to reach the Shiva-sthal while your steps go closer to the pass. Once you reach the top, just do the holiest offering and sit down for meditation to forget yourself. Once your steps go down, Parvati-stal and Gauri Kunda are on the way. By the late afternoon you will arrive Zuthal Puk (the cave of Miracles. The great ascetic Milerappa is supposed to have performed miracles here).
Day 11: End of Kailash Parikrama and drive to Manasarovara: After walking 3 hours, all the driving crew will be waiting your arrival. By the late afternoon you will be at your lodge/camp.
Day 12: Drive to Paryang (277km) 7-8 hr.
Day 13: Drive Paryang to Saga (230km) 7-8 hrs
Day 14: Drive to Nylam or Zangmu: (245km) 6-7 hr.
Day 15:Drive to friendship-bridge.
Drive to Friendship Bridge at the border, our tour guide will see you off here, and you need cross the border by yourself. Himalaya journey reprensentative will pick up you from Kodari (Tibet border), transfer to hotel. Over night at Kathmandu.
Day16: After breakfast, Relaxing/shopping with own activities , Himalaya Journey Treks & Expedition's representative will drop to Kathmandu international airport for onward journeys or if you have time to stay in Nepal will arrange any other trip such as Chitwan Junlge safari tour, Lumbini tour, Chitwan jungle safari tour , river rafting etc.
Tibet Kailash trekking tour cost: USD $3250 Per person
[email protected] , [email protected]
Service includes:-
Airport pick up and transfer to hotel.
Three night accommodation in Kathmandu on BB basis ( 3 star category hotel) on twin sharing as mentioned in itinerary
An experienced, helpful and friendly Government license holder tour Guide.
kathmandu valley sightseeing tour with guided trip as mentioned in itinerary
Kathmandu valley sightseeing tour with private car as mentioned in itinerary
Kathmandu Tibet border drop by private jeep as mentioned in itinerary
Hotel accomodation during Tibet kailash trekking tour on BB basis on twin sharing as mentioned in itinerary
Three time meal during the Tibet Kailash trekking tour as mentioned initinerary
Tibet Kailash overland tour with guided trip as mentioned in itinerary
Tibet Kailash overland tour with private vehicle as mentioned in itinerary
sightseeing entrance for Tibet Kailash trekking tour
Tibet travel permit as mentioned in itinerary
Tibet Kodari border pick up by private vehicle as mentioned in itinerary
All program as mentioned in itinerary
Overland transportation
Insurance for Nepalese staff. ( Tour guide, and driver)
Guide and porter fares and taxes.
Government Tax and office service charge.
Kathmandu intetrtnational Airport drop
Service Excludes:-
Lunch & Dinner during Kathmandu stay
International flight ticket & Kathmandu Lhasa Kathmandu flight ticket
Nepal entry visa fee US$ 40 (duration 60 days from date of issue)- you may easily issue the visa upon your arrival at Tribhuwan International Airport - Kathmandu.
Disembarkation Airport Tax in Nepal - approx. US$ 24. al equipments
High risk medical insurance
Entrance fees while sightseeing tour in Kathmandu valley.
Alcoholic beverage and telephone calls
Hot drinks, Soft drinks such as cola, mineral water
Nepal Visa Fee
Emergency rescue evacuation if needed
Purely personal nature expenses
Tipping /Tips(Tipping is Expected).
Photo gallery
Please click on thumbnail image to have larger view.
Useful Information:
Tibet Kailash trekking tour is one of the popular tours in Tibet. Kailash Mansarovar tour offers superb Himalayan views of Holy Mt.Kailash , holy mansarovar lake, Tibetan Monasteries, Potala palace , ancient Tibetan village , beautiful landscape , Tibetan culture and warm hospitality.
Similar Fixed Departure Trips