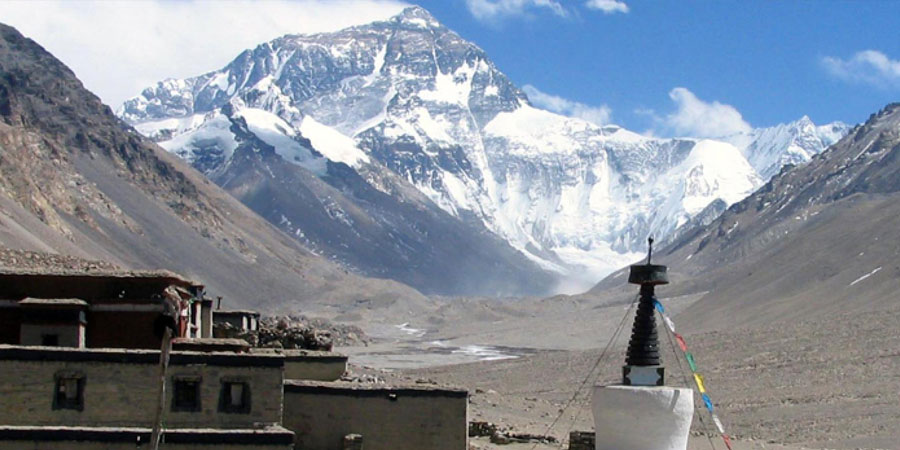 Tibet Everest base camp trekking tour
Tibet Everest base camp trekking tour is one of the exciting trekking in Tibet. Tibet Everest base camp tour offer beautiful Himalayan view of Mt. Everest 8848m, Mt. Cho Oyu 8201m, Mt. Shishapangma 8013m , nomad lands , beautiful potala palace , Gompas . Tibet Everest base camp trek take to travelers heart of the Tibet . Normally May, June, July & August are best month trekking in Tibet Everest base camp but we Himalaya Journey Trekking arrange around the year as per travelers choice. Minimum one week holiday required for Everest base camp trekking & fit for all age group travelers. Tibet Everest base camp tour permit issue by authorized Tibet travel agencies. Tibet Everest base camp trekking cost is depend on group size and choice of packages and we will arrrange tailor made package trip to Tibet Everest base camp.
Tibet Everest base camp trek commence from two different place either Tibet Lhasa after 1 hour 30 minute flight from Kathmandu / Chengdu or Tibet Border kodari after 5-6 hours drive from Kathmandu. We Himalaya Journey Trekking offer either private or group join basis Everest base camp trekking as per travelers desire. We have every Tuesday & Saturday group for group join basis Everest base camp trek. Specially, we focus on tailor made package Everest base camp tour with customized service. Himalaya Journey Trekking create Tibet Everest base camp trek itinerary as below mentioned but travelers may change or extend their plan as per holiday frame. we are local Tibet tour operator in Nepal and arrange all tibet travel permit and visa from Kathmandu chinese embassy .
Fixed Departure Dates
May 2022: 3rd, 6th ,8th, 11th , 14th , 24th ,28th
June 2022: 2nd ,4th, 7th, 10th, 15th, 18th, 26th
July 2022: 3rd, 5th, 9th, 11th, 13th, 15th, 21st, 24th, 26th, 28th
August 2022: 5th, 8th, 10th, 12th, 15th, 17th, 21st, 25th ,27th, 29th
September 2022:2nd,4th ,7th,10th, 14th,18th, 20th, 23rd, 25th
Tibet Everest base camp trekking tour itinerary:
Day 01 : Arrival in Kathmandu 1334m
Arrival in Kathmandu (1334m), transfer Hotel,Tibet Everest base camp tour briefing with officially arrangments. overnight at kathmandu
Day 02: After breakfast, our tour guide will take to for historical monuments sightseeing in kathmandu valley such as Boudhhanath : visit Bodhnath Stupa, one of the biggest Buddhist shrines in the world, where we observe Buddhist monks in prayer in the monasteries surrounding the stupa than visitPashupatinath: the most famous Hindu temple in the country, located on the banks of the holy Bagmati River. Here you see Hindu holy men (sadhus) meditating, pilgrims bathing and occasionally funeral pyres burning on the ghats. Kathmandu durbar square: you will enjoy with different Hindus Temple, Goddes Kumari, legend of kathmadu valley.etc our representative will apply Tibet travel permit at chinese embassy of Kathmandu. overnight at kathmandu in Hotel.
Day 03 : Kathmandu - Nyalam
Morning after breakfast leave Kathmandu to commence yatra to Nyalam [3750M]. We reach Friendship Bridge [Nepal – China Boarder] by mini-coach. Walk along for 10 minutes to cross the bridge and there get acquainted with Chinese guide and land cruiser drivers. They will give a brief information regarding the further trip then proceed the journey to Zangmu, where all the immigration and custom formalities are ought to be accomplished. After the accomplishment of all formalities, we proceed to Nyalam. Arrival at Nyalam and overnight stay at guesthouse.
Day 04 : Nylam to Tingri
Our attendants will always be there to help you in case you feel any initial discomfort, which is possibly due to atmospheric pressure. In the evening time, you can go for a quiet walk in the Tingri which is breathtakingly beautiful.
Day 05 : Tingri - Everest Base Camp – Tingri
Today, the day is going to be quite strenuous so get yourself ready physically and mentally. We start by visiting the Everest Base Camp, which very well could be the most anticipated moment of your tour to Tibet. From there trek to the foot of the highest mountain in the world and stand in awe under this giant that seems to have no end. In fact the best time to come here is at sunrise or at sunset as the different hues of the sky gives Everest a mesmerizing look. Return to Tingri where overnight stay is arranged in a comfortable hotel.
Day 06 : Tingri – Xigatse
After a sumptuous breakfast consisting of buttered tea and Amdo dough strips, embark on a journey to Xigatse where you will be directly taken to Shigatse hotel for check in. En-route, visit the Lhatse city and the famous Sakya Monastery which are definitely worth the time you will spend discovering their magnificence. The rest of the day is for your leisure. After having ample of rest, move out into the Xigatse city and explore it at your pace. The city is really a great place for hanging out and shopping. Shop for Silver ornaments and locally made handicrafts, the favorite among the travelers that makes an excellent best memorabilia back home. Night stay will be at the hotel.
Day 07 : Shigatse/ Xigatse - Lhasa
After your breakfast having the best of Tibetan delicacies, we will head towards Lhasa, the capital city of Tibet. The distance between the two cities is more than 200 km and it takes more than 6-hrs drive to cover the distance. It is not possible to continue the journey at one stretch itself, so there will be one or two minor halts in between. As you reach Lhasa, you will be taken to one of the finest hotels in the town, Lhasa Hotel. After checking in, it is time for rest. For the evening a special cultural show is organized, there will be dance and music program performed by the local Tibetan folklore. If you please, take a look around in the city and mingle with the locales to learn more about their customs. Overnight stay at the hotel.
Day 08 : Lhasa Sightseeing ( Potala Palace, Jokhang Temple, Barkhor Street)
Lhasa is the most important city in Tibet and holds lot of places of interest. So it's better to start the trip as early as possible. We will first visit the famous Potala Palace. As grand as one could imagine, Potala Palace is the best example of architectural skills present in Tibet. The external appearance itself will bewitch you to no extent, and the interiors are even better. It takes around 4-5 hrs to cover all the halls and rooms of the palace. From there, you will be taken to Jokhang Temple which is around 3 km to the east of the palace. The Jokhang Temple is famous for statue of Sakyamuni. After completely relishing the beauty of the temple, step out into the Barkhor Street which is the busiest market place in Tibet. Spend some valuable time shopping, as you will get almost everything you require and wish for, on a single street itself. The paintings, especially the Thangka paintings and specially made knives have become the most sold items. In the evening, come back to the hotel for dinner and a good night's sleep.
Day 09 : Lhasa Sightseeing( Includes Sera Monastery, Drepung Monastery and Norbulingka)
This day as well is set apart for touring inside the Lhasa city. The day begins with your visit to Sera Monastery which is considered to be the representative monastery of the Gelugpa of Tibetan Buddhism. Visit the various halls dedicated to different deities like the Hall of Goddess of Music and Hall of Goddess of Mercy. Then we move on to Drepung Monastery which lies to the west. The best time to see this monastery is when the sun is at its peak, the white walls of the monastery shining like a diamond under the sunlight is a view not to be missed. Last but not the least we move towards Norbulingka palace which was once used as the summer palace by Dalai Lamas. Roam around the park, which has lot of palaces, built by different Dalai Lamas. It is an apt place to hang out and relax along side the locales that come here regularly. As the evening starts giving way to darkness, we return to our soothing home away from home. The hotel will cater you the best Tibetan dinner with number of delicacies like Zanba, Tu Pa and the favorite Highland Barley wine to pamper your stomach and tongue. Head to your room for the last night in Tibet.
Day 10 : Lhasa onward journeys.
After breakfast, Relaxing/shopping with own activities ,Himalaya Journey Treks & Expedition's representative will drop to Lhasa Gonger airport for onward destination.
Tibet Everest base camp tour cost: USD $1650 Per person
Service includes:-
Airport pick up and transfer to hotel.
Three night accommodation in Kathmandu on BB basis ( 3 star category hotel) on twin sharing as mentioned in itinerary
An experienced, helpful and friendly Government license holder tour Guide.
kathmandu valley sightseeing tour with guided trip as mentioned in itinerary
Kathmandu valley sightseeing tour with private car as mentioned in itinerary
Kathmandu Tibet border drop by private jeep as mentioned in itinerary
Hotel accomodation during Kathmandu Lhasa overland tour on BB basis on twin sharing as mentioned in itinerary
Kathmandu Lhasa overland tour with guided trip as mentioned in itinerary
Kathmandu Lhasa overland tour with private vehicle as mentioned in itinerary
sightseeing entrance for Kathmandu Lhasa overland tour
Tibet travel permit as mentioned in itinerary
Kathmandu International airport pick up while Lhasa to Kathmandu flight
All program as mentioned in itinerary
Overland transportation
Insurance for Nepalese staff. ( Tour guide, and driver)
Guide and porter fares and taxes.
Government Tax and office service charge.
Kathmandu intetrtnational Airport drop
Service Excludes:-
Lunch & Dinner during Kathmandu & Lhasa stay
International flight ticket & Kathmandu Lhasa Kathmandu flight ticket
Nepal entry visa fee US$ 40 (duration 60 days from date of issue)- you may easily issue the visa upon your arrival at Tribhuwan International Airport - Kathmandu.
Disembarkation Airport Tax in Nepal - approx. US$ 24. al equipments
High risk medical insurance
Entrance fees while sightseeing tour in Kathmandu valley.
Alcoholic beverage and telephone calls
Hot drinks, Soft drinks such as cola, mineral water
Nepal Visa Fee
Emergency rescue evacuation if needed
Purely personal nature expenses
Tipping /Tips(Tipping is Expected).
Photo gallery
Please click on thumbnail image to have larger view.
Useful Information:
Tibet Everest base camp trekking tour is one of the most popular trekking tour in Tibet. Tibet Everest base camp trek offer beautiful Himalayan view of Mt. Everest 8848m, Mt. Cho Oyu 8201m, Mt. Shishapangma 8013m , nomad lands , beautiful potala palace , Gompas .
Similar Fixed Departure Trips