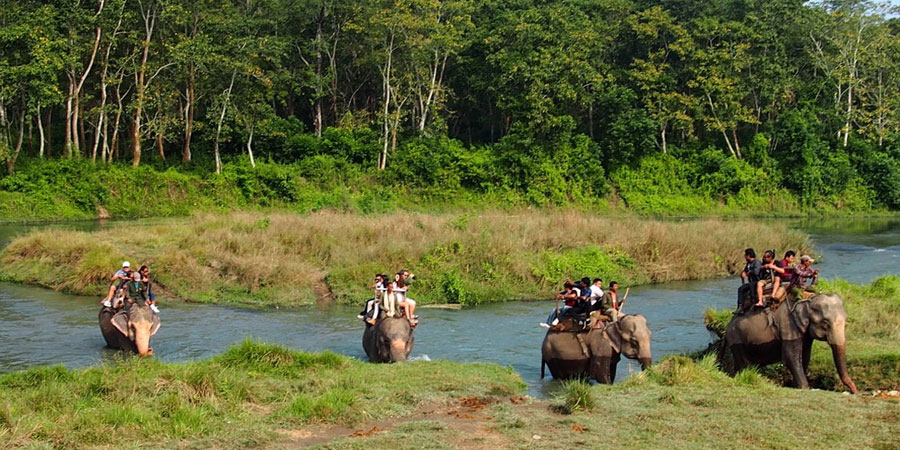 Jungle Safari tour in Nepal
Jungle safari tour in Nepal is one of the amazing adventure trip.Nepal Jungle safari tour is known as Nepal wildlife safari tour offer unique wildlife tour for nature lovers, bird watchers,wild animals spectators. Jungle safari in Nepal suite for those travelers who wish to relax after Nepal trekking, Nepal tours or other adventure tour in Nepal but we offer Nepal Jungle safari tours with originally as per travelers / trekkers wish and holiday schedule. wildlife safari tour in Nepal offer you the chance to enter the jungle and view some of the rarest and most endangered wildlife on earth . Nepal has two most popular National park for jungle safari tour - Chitwan Jungle safari tour ,Bardia Jungle safari tour and Koshi tappu wildlife safari tour.
Wildlife safari tour in Nepal can be a very amazing experience fit for all age groups trekkers and travelers. March, April , September, October, November and December are best month for Jungle safari trip in Nepal. Nepal has several places for Jungle safari package tour among them Chitwan jungle safari tour, Bardia Jungle safari tour , Koshi Tappu wildlife safari tour is most popular wildlife adventure destination in Nepal. Jungle safari trip in Nepal can do 1 night 2 days to till weeks as per travelers choice & holiday frame.
Nepal Jungle safari tour is best specially for family, schools / academic groups, club groups and incentives groups because in limit time frame get maximum enjoyments. Since Nepal jungle safari tour / wildlife safari tour in Nepal has been opened we Himalaya Journey Trekking and expedition arrange numerous travelers / trekkers arrange trip in chitwan National park, Bardia National park and Koshi Tappu wildlife conservation area. All most Nepal Jungle safari tour lies in southern lowlands of Nepal are known as the Terai. This area is covered in dense tropical jungles and is home to thousands of bird and animal species, including some of the world's most exotic and endangered species. Due to increases in population, deforestation, and illegal poaching, the natural habitats of animals like One-Horned Rhino, Royal Bengal Tiger, Snow Leopard, Red Panda, Blue Bull, and the Gharial Crocodile are being destroyed, and leading these creatures to extinction.
Nepal jungle safari trip take to you core of Nepal forest with unique wild life safari adventure trip. A number of conservation areas, national parks, wildlife reserves, and hunting reserves have been established in Nepal.Nepal Jungle safari tour take to you heart of the Nepal forest with wild life safari tour less then one week holidays in Nepal.
Similar Jungle Safari in Nepal