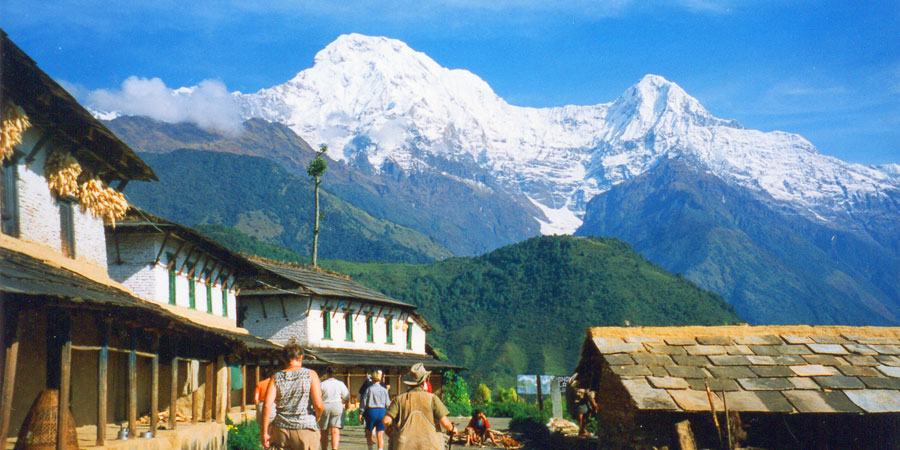 Travel in Nepal
Travel in Nepal is amazing lifetime adventure journeys for nature & mountain lovers.Need to know about Nepal travel information before visit in Nepal Traveling in Nepal is one of the most exciting destination to explore the richest country in the world in terms of bio- diversity due to its unique geographical position and altitudinal variation. Nepal is one of the most popular travel destination in south Asia. Welcome to Nepal an ideal Himalayan country where top of the world ( Mt. Everest 8848m) and world's eight highest mountains are situated, A perfect vacationland, unspoiled, exotic and brimming with nature, deepest Kali gandaki gorge in the world, world's highest located Tilicho lake, best preserved home in the world for such rare and exotic animals, such as the Royal Bengal tiger, one horned rhinoceros, snow leopard, musk deer, Himalayan red panda, birth place of Lord Budhha, the unique, natural & cultural beauties.
Travel to Nepal is extremely amazing life time experience for adventure travelers/ seekers where fulfill entire desire as expected while Trekking in Nepal , Tour in Nepal ,hiking in Nepal and any other packages. Nepal adventure travelers / trekkers / adventure seekers can choose from the different regions of Nepal trekking trails where they can see Himalayan views, famous tourist place in central Nepal including Kathmandu valley, Nagarkot , Dhulikhel, Daman, Pokhara, Gorkha, janakpur, Tansen, Bardia, lumbini, chitwan jungle safari tour ,Annapurna , Everest, langtang, Manasalu, Dolpo and mustang.Since established of Himalaya Journey Trekking , we have been provided logistic Nepal visit information for travel to Nepal , Nepal trek, Nepal tour and other all adventure trip in Nepal. Travelers should know all the information before travelling in Nepal that make easier your travel to Nepal.
Nepal has various packages such as Tour in Kathmandu and out of Kathmandu valley, Trekking in Nepal Himalaya, Jungle safari, Peak climbing, Himalayan expedition, Hiking holidays, river rafting, Bungy Jumping, paragliding, Motor gliding, cannoning , Rock climbing, Mt. Everest Mountain flight tour, Hiking , sightseeing tour etc. we have mentioned below most popular tourism packages in Nepal and Himalaya Journey Trekking will arrange any trip private or group join basis , friends or family , individual or tailor made package trip with life time experiences! we HJT team arrange all type of tour in Nepal, Trekking in Nepal Himalaya and adventure trip as per guest requirments.
Travel in Nepal major facts:

* Travel in Nepal is amazing lifetime adventure journeys for nature & mountain lovers to explore the Nepal trekking trails, Tours in Nepal , Nepal river rafting, Nepal jungle safari and other more package trip.
* Nepal travel information need to know before visit in Nepal for different packages.
* Traveling in Nepal is really exciting journeys to explore the nepal Himalaya.
* Explore the Nepal historical destination, temples , monasteries and multi cultures.
Similar Nepal Adventure Tours