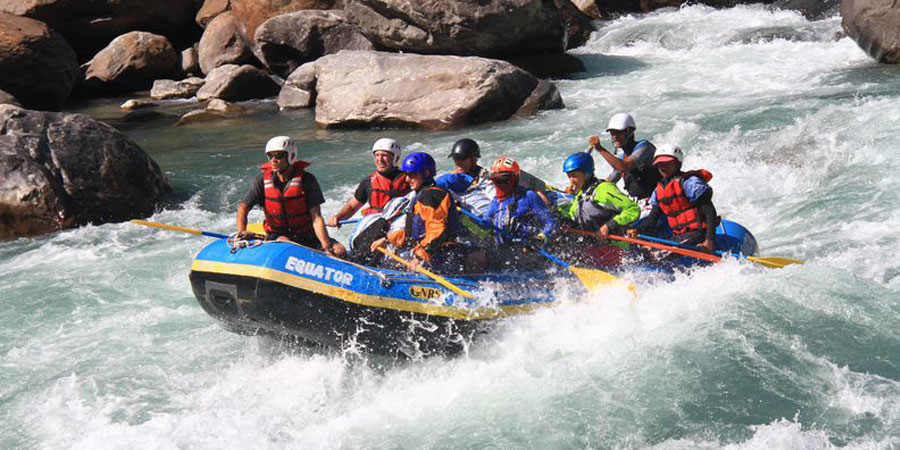 Rafting in Nepal
Rafting in Nepal is one of the exciting trip for adventure travelers. Nepal river rafting offer unique Himalayan views, beautiful landscape, thrilling in Nepal Himalayan river and birds of Nepal. Nepal rafting is an adventure trip for those who love Nature and valleys of the Himalayan country. Nepal is one of the most popular for white water river rafting in Asia. Nepal is 2nd largest country for the water resources and we have 1310 rivers among them more then 12 rivers are very popular for river Raft in Nepal. Nepal White Water rafting is a popular water adventure sport in Nepal. River rafting adventure is not only for encountering with challenge of the torrential rapids of the mountain rivers but also to explore a typical cross section of the country's natural as well as ethno-cultural heritage. Nepal rafting companies operator all river rafting from single day up to two weeks.
Nepal rafting package tour explore the rural areas of Nepal as well stunning Himalayan views and green jungle. Trisuli river rafting, Sun Koshi rafting, Bhote koshi rafting, Seti river rafting, Kali gandaki river rafting, Karnali river rafting & Marshyangdi rafting is popular rafting trip in Nepal but we Himalaya Journey Trekking and Expedition arrange all Nepal river rafting as per traveler's wish and holiday schedule any time of year.HJT offer Kayaking in Nepal river with life time river adventure journey for those who have entire desire for Nepal Kayaking and thrilling in white water. Nepal white rafter rafting can do after the trekking in Nepal Himalaya and any Nepal package trip. Nepal rafting itinerary designed as per travelers wish and holiday frame. Nepal River rafting cost is depend on group size but individual and group join basis rafting also possible. As we are authorized local Nepal rafting operator will concrate your dream in to the reality with memorable trip.
Nepal river rafting adventure is one of the most enjoyable and effective ways to experience the life of rural areas & spectacular scenery of nature's beauty. Himalaya journey Trekking is a professional Nepal rafting operator for all white water rafting trip in Nepal with safety and maximum enjoyment. HJT generate river rafting itinerary either private or group join , family or relative and club or academic group with personalized service. Our top preference is to provide quality service with safety journey to every client while River rafting in Nepal. Our rafting guides inform all the aspects of rafting and river safety before starting of each journey. Safety Kayakers are always along on high water expeditions. Nepal rafting trip arrange for all age group travelers and no previous experience required for Nepal river rafting but good physical fitness is necessary. Himalaya Journey Trekking arrange one day to two weeks river rafting as per client's demand with Life time journeys!
Rafting in Nepal Major Highlights
* Nepal river rafting discover the Nepal trekking trails and beautiful Himalayan views
* River rafting in Nepal explore the natural beauties of Nepal, best Himalayan river and water falls
*Exploration of Nepal national park, conservation area, wildlife safari spot and beautiful landscape of Nepal
* Thrilling adventure raft in Nepal with snowy rivers of Nepal
* You will enjoy Himalayan white water rafting in Nepal as well as Kayaking too.