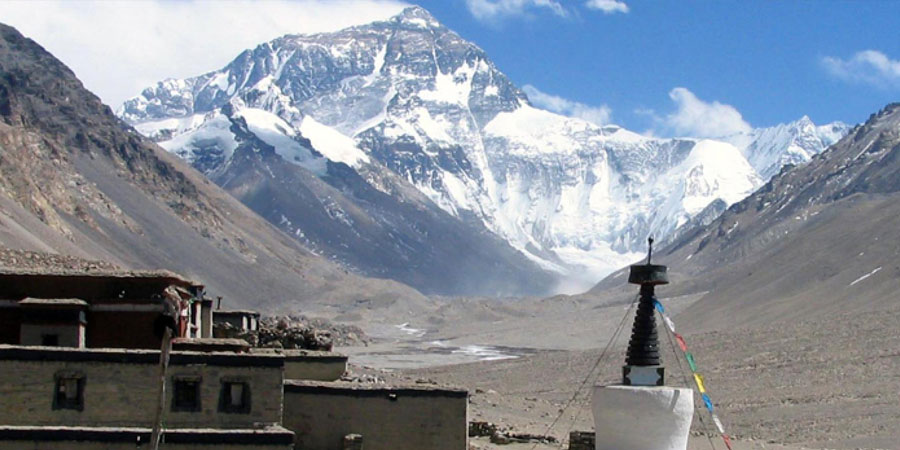 Tibet Everest base camp trekking
Tibet Everest base camp trekking is popular tour destination in Tibet. Tibet Everest base camp trek offers panoramic Himalayan views including the mount Everest and other more mountains as well as potal palace, Jhokang temple, lush valleys , beautiful landscape, Tibetan monasteries, Tibetan culture. The classic trekking in Tibet Everest base camp is a journey of lifetime to explore and experience the Tibetan awesome culture, brown rolling hills, wrecked forts, artistic ornate monasteries, centuries old caravan trails, breathtaking scenery etc. Lhasa Everest base camp tour offer many exciting memorable encounter along the way that you can't express or explain unless you are a part of it. Since Tibet Everest base camp tours package has been open Himalaya Journey Treks & expedition –Nepal arrange numerous adventure travelers to Tibet Everest base camp package trip. Treks in Tibet Everest base camp fit for all age group travelers.
Tibet Everest base camp trek commence from Kathmandu to by flight Tibet Lhasa with a spectacular flight over the snow capped Himalayan mountains past Mt. Everest, Malaku and Kanchanjunga. In Lhasa visit the Potala, the famous palace of the Dalai Lama, Norbulinkha, the great Drepung Monastery and the holy Jokhang Temple. Walk amongst the crowded Tibetan market - the bustling Barkor Bazaar. Drive past the beautiful Turquoise lake on the way to the historic town of Gyantse with its unique multi-storied Kumbum Stupa. At Shigatse walk through the massive Tashilungpo monastery and visit the memorial 'Chorten' of the late Panchen Lama. At the high plains of Old Tingri meet up with the trek crew and start trekking to North Everest Base Camp. Mt. Everest base camp tour cost is depend on group size but doable individual person too,
Tibet Everest base camp tour will take you up the historic expedition route from Old Tingri to Rongbuk Monastery crossing the Langma La pass (16,900 ft). Later hike up to the North Everest Base Camp and explore the Rongbuk glacier set directly below the massive north-face of Mount Everest. After gazing at the worlds highest mountain scenery from Rongbuk drive by way of the amazing Himalayas Highway to Kathmandu in Nepal. We Himalaya Journey Treks & expedition arrange the Tibet Everest base camp package trip according to travelers/ adventure seekers holiday schedule and wish with life time unforgettable journeys! Tibet Everest base camp tour itinerary generate a below mentioned but trekkers may change or extend as per wish and holiday frame.
Tibet Everest base camp trekking itinerary :
Day 01: Arrival in kathmandu, transfer to hotel and Tibet Everest base camp tour briefing with offifical arrangments. overnight at Kathmandu
Day 02: After breakfast, our tour guide will take to for historical monuments sightseeing in kathmandu valley such as Boudhhanath: visit Bodhnath Stupa, one of the biggest Buddhist shrines in the world, where we observe Buddhist monks in prayer in the monasteries surrounding the stupa than visitPashupatinath: the most famous Hindu temple in the country, located on the banks of the holy Bagmati River. Here you see Hindu holy men (sadhus) meditating, pilgrims bathing and occasionally funeral pyres burning on the ghats. Kathmandu durbar square: you will enjoy with different Hindus Temple , Goddes Kumari, legend of kathmadu valleyand procedure for Tibet visa.
Day 03: Fly Kathmandu/From China to Lhasa (3650 m), 90 kms O/N Hotel. Upon arrival in Airport you will be met by our Tibet representative and drive to Lhasa, check in Hotel rest and acclimatization.
Day 04: Guided sightseeing tour of Potala Palace, the winter palace of the Dalai Lama; Drepung Monastery, the biggest monastic university of Tibet and Nechung Monastery, temple of the State oracle of Tibet.
Day 05: In Lhasa Guided sightseeing tour of Jokhang, the central cathedral of Tibet, Barkhor, the bustling Lhasa market encircling the Jokhang Temple, Tibetan Medical Center and Norbulinka Palace.
Day 06: Lhasa-Gyangtse (3990 m), 350 kms Drive to Gyantse via Lake Yamdrok Tso, the Turquoise Lake, cross Kampa la pass 5050 m and Karo la (5045 m) passes. Visit Kubum stupa and Pelkor Chode Monastery.
Day 07: Gyangtse Shigatse (3860 m), 90 kms Drive to Shigatse. En route visit Shalu Monastery. Visit Tashilhunpo Monastery, the seat of Panchen Lama who is the 2nd in the Buddhist religious hierarchy and Shigatse Market.
Day 08: Shigatse-Sakya-Shegar/Dingri(4350 m) Today we arrive at Dingri, a windblown settlement and the gateway to Mt. Everest where we meet our Nepali Sherpa staffs. En route visit Sakya Monastery.
Day 09: Trek to Lungjhang (4650 M)-5-6hrs Trek, O/N Camp. From today trekking commence, continue five days trek,from the Dingri plains (4500M) to all the way upto Dza Rongbu Monastery (5109 m) and Everest Base Camp at 5281 Meters.. We begin our trek along Ra Chhu stream to beyond Chholling and camp at village of Lungjhang
Day 10: Trek below Lamna La at 4687 M.6hrs trek, O/n Camp. We continue our trek and pass through a small goat or Drokpa encampment and camp below Lamna La
Day 11: Trek to Zommug at 4906 M, -5-6hrs trek, O/N Camp. We climb over Lamna La (5100 M) with Gyachung Kang and Cho Oyu off to the south; and descend to Zommug, at 15,700 ft the highest permanent settlement in the Everest region. Zommug is a center for animal husbandry and a supply center for yaks used on Everest expeditions.
Day 12: In Rongbuk To the south of Zommug is the famed Dza Rongbuk Monastery reached by either a spectacular high route or an easier low path. Once a flourishing retreat center, it is built by Dzatrul Ngawang Tenzin Norbu in early 1901-02. The majestic Everest stands towering high above in full glare.
Day 13: Trek to Everest Base Camp at 5200 M, 2-3hrs trek, O/n Camp. Everest Base Camp (16,900 ft) and the Rongbuk Glacier are approximately 2-3 hrs above the monastery. The route passes retreat caves, the ruins of the nunnery of Sherab Chholing and the fast flowing Dzaka Chu. Just before the terminus of the Rongbuk Glacier is Everest Base Camp. Across a creek, is the ocean of ice that composes the Rongbuk Glacier, with views of the Himalayan range that are among the most spectacular views.
Day 14: Drive to Tingri, O/N Camp/ GH. Leaving Dza Rongbuk, we drive through the village of Chhosang, Phadrukchi, over Pang La, across Phung Chhu or Arun River, and into Tingri.
Day 15: Tingri-Nayalam, O/n Guest House From Tingri plain we drive across the high Tibetan plateau to the trade post town of Nyalam and onto Zhangmu, the border town. En route visit Milarepa Cave where Tibet's greatest yogi of the 11th century Milarepa meditated.
Day 16: Nayalam-Kathmandudrive down hill to Friendship Bridge where our representative will meet you and drive you to Kathmandu & in the evening farewell diner in Nepalese restaurant . overnight at Kathmandu
Day 17: After breakfast, Relaxing/shopping with own activities , Himalaya Journey Treks & Expedition's representative will drop to Kathmandu international airport for onward journeys or if you have time to stay in Nepal will arrange any other trip such as Chitwan Junlge safari tour, Lumbini tour, Chitwan jungle safari tour , river rafting etc.
Tibet Everest base camp trek cost :

[email protected] , [email protected]
Service includes:-
Airport pick up and transfer to hotel.
Three night accommodation in Kathmandu on BB basis ( 3 star category hotel) on twin sharing as mentioned in itinerary
An experienced, helpful and friendly Government license holder tour Guide.
kathmandu valley sightseeing tour with guided trip as mentioned in itinerary
Kathmandu valley sightseeing tour with private car as mentioned in itinerary
Kathmandu International airport drop while Lhasa to Kathmandu flight
hotel accomodation entire the Tibet Everest base camp trekking on BB basis( tourist standard category hotel) on twin sharing as mentioned in itinerary
Tibet Lhasa sightseeing tour with guided trip as mentioned in itinerary
Tibet Lhasa tour with private vehicle as mentioned in itinerary
sightseeing entrance for Tibet Lhasa tour
Tibet travel permit as mentioned in itinerary
Kathmandu Tibet border overland transportation by private jeep as mentioned in itinerary
All program as mentioned in itinerary
Overland transportation
Insurance for Nepalese staff. ( Tour guide, and driver)
Guide and porter fares and taxes.
Government Tax and office service charge.
Kathmandu intetrtnational Airport drop
Service Excludes:-
Lunch & Dinner during Kathmandu & Lhasa stay
International flight ticket & Kathmandu Lhasa Kathmandu flight ticket
Nepal entry visa fee US$ 40 (duration 60 days from date of issue)- you may easily issue the visa upon your arrival at Tribhuwan International Airport - Kathmandu.
Disembarkation Airport Tax in Nepal - approx. US$ 24. al equipments
High risk medical insurance
Entrance fees while sightseeing tour in Kathmandu valley.
Alcoholic beverage and telephone calls
Hot drinks, Soft drinks such as cola, mineral water
Nepal Visa Fee
Emergency rescue evacuation if needed
Purely personal nature expenses
Tipping /Tips(Tipping is Expected).
Photo gallery
Please click on thumbnail image to have larger view.
Useful Information:
Tibet Everest base camp trekking is most popular trekking tour in Tibet offer world's top base camp and nomad lands of Tibet as well as great Himalayan views including Mt. Everest 8848m.
Similar Trekking in Tibet