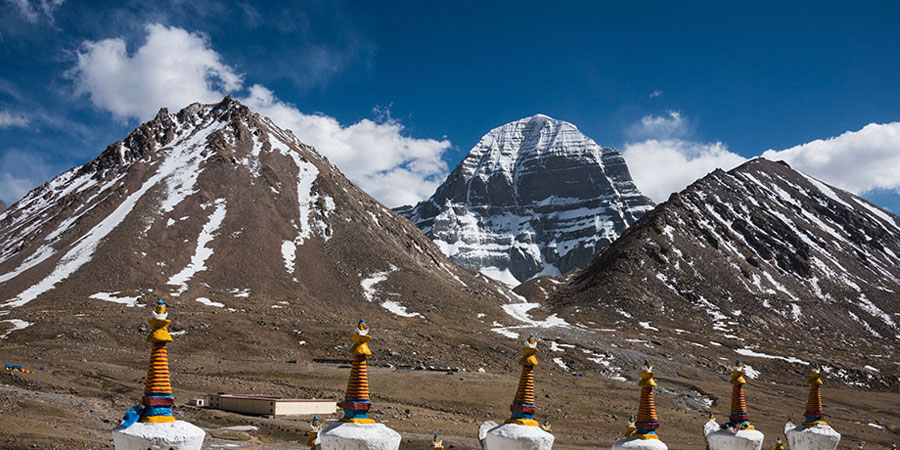 Tibet Kailash trekking
Tibet Kailash trekking is one of the popular trekking tour in Tibet. Kailash trekking tour is known as Kailash Mansarovar trekking the holiest for all Hindu as well as Buddhist pilgrims trekking tour in Tibet. Holy Kailash Mansarovar tour offer superb Himalayan views of Mt. Kailash , Holy mansarovar lake, beautiful landscape , Tibetan monasteries & Tibetan culture. Mt. Kailash 6714m is the most sacred mountain in Asia. It is believed to be the physical embodiment of the mythical Mt Meru, said to be the center of the universe or 'navel of the world' . Mt. Kailash is described with reverence as the abode of Lord Shiva who is revered as the destroyer and transformer of the Hindu Triad and his divine consort Parvati. This extraordinary mountain is regarded as the 'heart of the universe' by Hindus, Buddhists, the Jains and the Bons. we HJT generate Tibet Kailash trek itinerary as below mentioned but possible to do in group join basis and private trip as per requirements.
Tour in Kailash Manasarovar take to you core part of the Tibet .For Hindus, Mt. Kailash is abode of Shiva and the near by Mansarovar is the soul of Brahma, Tibetans call Kailash Kang Rimpoche and followers of Bon-Po, the ancient pre- Buddhist shamanistic religion of Tibet, regard Kailas as the soul of Tibet, Jains worship it as Mt Ashtapada, the peak from which the religion's founder, Rishabanatha, achieved spiritual liberation. Holy Mansarovar lake is the other attractive point while you are Mount Kailash trekking. Holy Mansarovar lake is stunningly set on the Tibetan plateau at an elevation of 4510m, and bordered by the majestic Gurla Mandata is more important to Hindus than to Buddhists. To complete the revered Mt. Kailash Yatra, Hindu pilgrims make 85km. circuit around Manasarovar crossing streams. Hindus has strong faith that the ritual bath will deliver a pilgrim to Brahm's paradise and drink of its water releases the sins of a hundred lifetimes.
Kailash Mansarovar trekking begins from three different place ( Lhasa , Simikot or Tibet border Kodari) we Himalaya Journey Treks & Expedition arrange all option Kailash package tour according to travelers choice. Lhasa Mansarovar Kailash trekking tour is one of the most popular package but Zhangmu Kailash trekking & Simikot Kailash trekking tour also popular package tour in Tibet. We arrange both Kailash kora trekking or inner Kailash circuit trekking as intention of kailash traveler /trekkers with proper manage. Probably , we are one of the Nepal based Tibet tour operator in Nepal who offers huge numbers of clients take to Holy Kailash and Mansarovar both Hindu /Buddhist pilgrimage traveler/ trekkers foreign and Indian with memorable experience in Life time. We are probably one of the few outfits that provide Nepali Sherpa staff support for all of our trekking tour in Tibet so as to ensure similar high quality trek services that exist in Nepal.
Tibet Mt. Kailash tour cost is depend on group size but arrange tailor made package trip as per travelers wish and holiday schedule. May , june , July , August and September are best month trekking in Kailash Mansarover but we Himalaya Journey Trekking arrange around the year as per holiday frame. All trips are planned to arrive at Kailash on a full-moon day to obtain total & unhindered view of the holy mountain. Holy Kailash trek package is a special, comprehensive. Since we are considered within the Nepalese Tourism field as being the leading agency for this particular tour and having the most knowledgeable guides going to Holy Mt. Kailash. We produced Kailash Trekking to meet the needs of those who wish to travel to Kailash.
Tibet Kailash trekking tour itinerary :
Day 01: Arrive in Kathmandu, Himalaya Journey Treks & Expedition airport representative will transfer to hotel,Kailash Mansarovar trekking briefing with officially arrangements .overnight at Kathmandu. .
Day 02: HJT representative will take your original passport for issue the Tibet Visa at Chinese Embassy Kathmandu and After breakfast HJT After breakfast, our tour guide will take to for historical monuments sightseeing in kathmandu valley such as Boudhhanath: visit Bodhnath Stupa, one of the biggest Buddhist shrines in the world, where we observe Buddhist monks in prayer in the monasteries surrounding the stupa than visitPashupatinath: the most famous Hindu temple in the country, located on the banks of the holy Bagmati River. Here you see Hindu holy men (sadhus) meditating, pilgrims bathing and occasionally funeral pyres burning on the ghats. Kathmandu durbar square: you will enjoy with different Hindus Temple , Goddes Kumari, legend of kathmadu valley and prepare for Tibet tour. Overnight at Kathmandu.
Day 03: Arrive Lhasa (3660m)
Himalaya Journey Treks & Expedition , Nepal ;arrange your arrival in Lhasa from anywhere. You can either join the trip from Kathmandu and fly to Lhasa or arrive Lhasa from Chengdu, Beijing , Shanghai, Xian or any nearby hub.;You will be met at Gonggar Airport by your Tibetan guide. After immigration formalities, you will be driven to Lhasa (3650 meters). It takes around an hour to reach the old city. After checking in at your hotel, you are advised to take rest and take it easy. Drink plenty of fluids and let your body get used to Lhasa's high altitude.
Day 04: Sightseeing in Lhasa
;After breakfast, you will be briefed on the day's program. An experienced guide will take you on a tour to Sera Monastery, Norbulingka and theBarkhor Square. At the famous Sera Monastery, you will get an insight into the important aspects of Tibetan Buddhism. You pay a visit to Norbulingka, the summer retreat of the Dalai Lama. Completed in 1956, the handsome building is ornately decorated with Tibetan carvings and paintings. Jokhang temple provides yet another glimpse of the rich Tibetan cultural heritage. You will also get the chance to stroll around the busy Barkhor Square, the nerve centre of Lhasa. After the day's tour, you will be escorted back to your hotel.
Day 05: Lhasa sightseeing excursion tour
After an early breakfast, you will be escorted by your guide to the majestic Potala Palace. The imposing structure of the palace dominates the landscape of Lhasa. As you are guided through the ancient chambers of the palace, you get to see Tibetan art at its best. The Potala Palace has a vast array of intricate Tibetan murals and beautiful statues. You will also get to view the tombs of the eight Dalai Lamas. Later in the day you will visit the beautifully landscaped Drepung Monastery where you can observe nuns and monks chanting and performing religious discourses. After the day's tour is over, you are escorted back to your hotel for a well- earned rest.
Note: Sinceonly a limited number of visitors are allowed inside the Potala palace every day, the order of sightseeing places will be decided upon by your guide.
Day 06: Drive to Gyantse (3950m)
Driving along the Friendship Highway, you drive past Khamba La, at 4794 m, with a brief halt to take in the majestic views of Yamdrok-tso Lake and Nazin Kang Sa, standing at 7252m. On turning westwards, you come across the Karo La pass at 5045m. If you take a glance at the road, you can see huge glaciers tumbling down onto the road. After driving 261 km, beautifully landscaped Tibetan villages become visible as you enter the town of Gyantse.
Day 07:Sightseeing in Gyantse & drive to Shigatse (3900m)
Gyantse prides on Gyantse Dzong and Kumbum. Gyantse Dzong, a 14th century historical fort, overlooks the entire Gyantse and the surrounding Nyang Chu Valley. Kumbum has a large gold-domed stupa and houses several chapels and Tibetan Buddhist murals. After you enjoy exploring Gyantse, you take a 90 km drive and arrive at Shigatse, the second largest city in Tibet, which lies at an altitude of 3900 meter.
Day 08: Sightseeing in Shigatse & drive to Lhatse (4050m)
Shigatse was previously both a stronghold and a monastery city. At the western tip beneath Mt Drolmari, lies Tashilhunpo Monastery. This monastery is the major attraction of Shigatse. Today you shall get to visit this ancient monastery, which is also the seat of the Panchen lamas and one of Tibet's four great monasteries. After the visit to the monastery you will get to explore Shigatse's free market. The free market bustles with vendors offering a selection of practical and souvenir items.
Later in the day, you drive along the Friendship Highway to Lhatse. After a drive of 157 km, you will finally reach the small dusty town of Lhatse. Good restaurants, well-stocked shops and guesthouses are available in Lhatse. This place has many ruined dzongs(forts) which were built by the Tibetan kings in the olden days. The small Changmoche Monastery lies at the west end of the town. ;In Lhatse, you will meet your Nepalese Sherpa cooking staff. They reach Tibet by traveling overland from Kathmandu. They will be in charge of the cooking and camping chores from this point onwards.
Day 09: Drive to Saga (4600m)
Heading away from Lhatse, the road goes past the Tsang Po river (Brahmaputra river). Further ahead, a river valley sprawls over and you see picturesque traditional villages. This drive provides plenty of opportunity to photograph the scenic vistas. Thereon, the road moves towards the northern route. On covering 295km, you reach Saga at an elevation of 4,600 meters.
Day 10:Drive to Paryang (4750m)
Taking another 255km drive from Saga to Paryang, you weave your way through the small dusty town of Zhongba amidst charming views. When you arrive at Paryang, you prepare yourself for the forthcoming Mount Kailash tour and trek.
Day 11:Drive to Manasarovar (4560m)
Prior to Mount Kailash tour and trek you have to traverse along 270 km distance from Paryang to Manasarovar. This route takes you to the beautiful and sacred Manasarovar Lake amazingly set on the Tibetan plateau bordered by the majestic Gurla Mandata. ;extraordinary landscape. As you near this sacred lake, historic Chiu Monastery becomes visible on the north-west shore of the lake. From this vantage point, you can even get a glimpse of the majestic Mount Kailash and Gurla Mandata. This journey leaves you spiritually fulfilled.
Day 12:Excursion around Holy Manasarovar Lake (4560m)
Free day in Manasarovar. While the trekking crew is busy with the camping arrangement, you can explore the scenic area. Hindus believe that in order to complete the Kailash pilgrimage one should bathe in the sacred Lake Manasarovar.
Day 13:Trek to Dira-puk (4900m)
Early in the morning you meet your team of Tibetan yak drivers with the yaks, who will escort you around the kora. Further ahead from Holy Mansarovar lake, you trek past verdant meadows and picturesque streams to Lha Chu Valley. The trail overlooks a river cascading over a narrow canyon with high steep cliffs. En route, the north face of Kailash comes into view. The trail then approaches the 13th century monastery of Dira-Puk. Visiting this monastery serves for an insightful experience. Eventually, you will conclude the trek of the day at Dira-Puk.
Day 14:Trek to Zutul-Puk (4790m)
Lha Chu Valley blurs as you turn towards Drolma Chu Valley. You ascend to Drolma La (5630m), the highest point of the trip. But soon after the breathtaking view of Thukpe Dzingbu Lake, known as the Lake of Compassion, at the summit, you realize that this tough and challenging ascent has indeed been worthwhile and fruitful. Several prayer flags can be seen at the summit. Further on, the trail descends to the flat fields of Zutul-Puk, which houses a monastery and several fascinating caves. These caves were used for meditation. Milarepa's cave is one of the most ancient and popular. Milarepa's footprints and elbow prints is believed to be imprinted all over this cave filled with mani stones. You then reach Zutul-Puk.
Day 15: Trek to Darchen (4560m) & Drive to Manasarovar
Away from Zutul-Puk, you follow the trail through Bharkha plain leading to Darchen. It is an easy walk along some impressive gorges and around many mani stones and mani walls back to the Bharkha Plains and dusty Darchen. The kora has come to an end – you have erased your sins, endured cold nights and mornings, crossed some of the highest passes in the world, met countless fellow pilgrims and sent prayers of peace out to the world. Shortly after arriving at Darchen, you board the waiting vehicle for a short drive to Chiu Gompa, on the shores of Mansarovar Lake.
Day 16: Drive to Paryang (4750m)
After the Parikrama or Kora around Mount Kailash over the 5630 meter Drolma La (pass), clockwise for Buddhists and Hindus, and anti-clockwise for followers of the ancient Bon religion, which is said to erase the sins of a lifetime, you take a 300 km drive crossing Mayum-la and several rivers. On the way you pass green pastures and nomadic herdsmen with their horses and flocks of sheep.
Day 17: Drive to Saga (4600m)
You continue the drive for another 255km that takes you to Saga passing through dusty town of Zhongba and a few smaller passes.
Day 18:Drive to Nyalam (3750m)
Crossing Yarlung Tsangpo (Brahmaputra river) by a ferry, you drive 250 km to Nyalam. Soon after leaving Saga, the road opens into a wide flat plain and passes through a huge turquoise lake, the Peiku-Tso, with the spectacular Shishapangma (8027m) rearing up in the background. You further drive across Lalung La (5200m) with picturesque hamlets and craggy windswept hills dotted with tumbling glaciers and finally reach Nyalam, lying at 3750 meter.
Day 19: Nyalam Drive to Kathmandu (1334m)
From Nyalam, you drive down to the border town of Zhangmu. From Zhangmu, it's a short drive to the Friendship Bridge, which spans the Bhote Kosi river and marks the Chinese - Nepalese border. Here you part with your Tibetan guide and driver and walk to the Nepalese Immigration Control in Kodari, where you will be met by your Nepalese staff. After completing the re-entry formalities, you continue the drive to Kathmandu which, depending on road condition, should take about 5-6 hours.Camp.
Day 20: Kathmandu journey to onward destination
After breakfast, Relaxing/shopping with own activities, Himalaya Journey Treks & Expedition's representative will drop to Kathmandu international airport for onward destination.
Kailash Manasarovar trekking cost:
[email protected] , [email protected]
Service includes:-
Airport pick up and transfer to hotel.
Three night accommodation in Kathmandu on BB basis ( 3 star category hotel) on twin sharing as mentioned in itinerary
An experienced, helpful and friendly Government license holder tour Guide.
kathmandu valley sightseeing tour with guided trip as mentioned in itinerary
Kathmandu valley sightseeing tour with private car as mentioned in itinerary
Kathamndu International airport drop to catch the Kathmandu Lhasa flight as mentioned in itinerary
hotel accomodation entire the Kailash Mansarovar trekking tour on BB basis( tourist standard category hotel) on twin sharing as mentioned in itinerary
Tibet Lhasa sightseeing tour with guided trip as mentioned in itinerary
Tibet Lhasa tour with private vehicle as mentioned in itinerary
sightseeing entrance for Tibet Lhasa tour
Tibet travel permit as mentioned in itinerary
Tibet border pick up by private jeep as mentioned in itinerary
All program as mentioned in itinerary
Overland transportation
Insurance for Nepalese staff. ( Tour guide, and driver)
Guide and porter fares and taxes.
Government Tax and office service charge.
Kathmandu intetrtnational Airport drop
Service Excludes:-
Lunch & Dinner during Kathmandu stay
International flight ticket & Kathmandu Lhasa Kathmandu flight ticket
Nepal entry visa fee US$ 40 (duration 60 days from date of issue)- you may easily issue the visa upon your arrival at Tribhuwan International Airport - Kathmandu.
Disembarkation Airport Tax in Nepal - approx. US$ 24. al equipments
High risk medical insurance
Entrance fees while sightseeing tour in Kathmandu valley.
Alcoholic beverage and telephone calls
Hot drinks, Soft drinks such as cola, mineral water
Nepal Visa Fee
Emergency rescue evacuation if needed
Purely personal nature expenses
Tipping /Tips(Tipping is Expected).
Photo gallery
Please click on thumbnail image to have larger view.
Useful Information:
Tibet Kailash trekking is one of the popular trekking tour in Tibet. Kailash trekking tour is known as Kailash Mansarovar trekking the holiest for all Hindu as well as Buddhist pilgrims trekking tour in Tibet.
Similar Trekking in Tibet