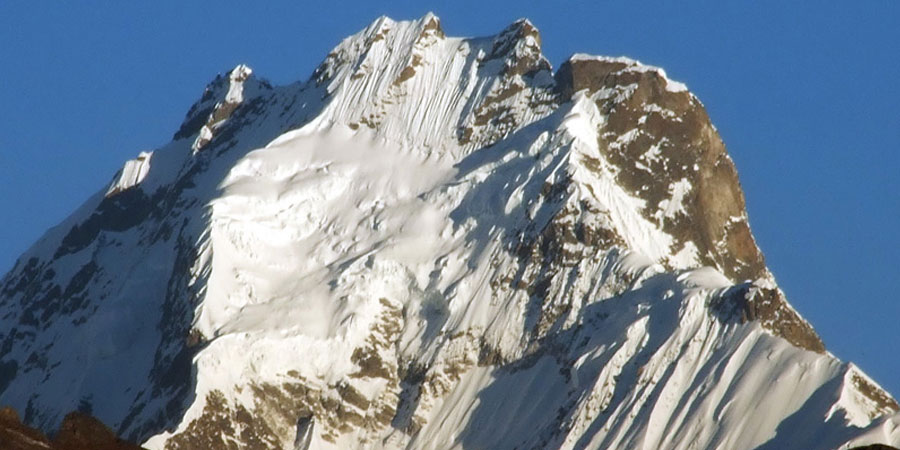 Mt.Ganesh Himal expedition
Ganesh Himal expedition is popular expedition in Ganesh Himal region. Mt. Ganesh Himal climbing (7446m) is one of the beautiful mountains in Nepal which lies to the northwest of Kathmandu valley and east of Langtang Himal. Mount Ganesh Himal easily visible on a clear day from Kathmandu city. The highest peak in Ganesh Himal is Mount Ganesh I (Yangra). Although the peak was first attempted by H. W. Tilman's team back in 1950. The first successful ascent took place in 1955 by a Franco-Swiss Expedition team via the Southeast Ridge.There were several unsuccessful attempts on this peak from 1950s and finally, submitted in 1981 via Northeast spur (drive) and North Face. Since Ganesh Himal expedition open for mountaineering numerous mountaineers reached the summit.

Mount Ganesh Himal climbing begins at Syabru Bensi after 7-8 hours drive from Kathmandu. Himalaya Journey Treks & Expedition's climbing guide led you through beautiful sherpa village Paragaon Garthali Thanjung Kharka Sanjung Khara and finally reach at Ganesh Himal base camp .Our trekking reaching Base Camp affords incredible nearly touchable views of Ganesh Himal 1st (7429m.), Ganesh Himal II (7150m.), and Mt. Manaslu (8163m.). Ganesh Himal expedition commence from mostly through typical Nepalese villages, forests and jungles, rhododendron, Bamboo, pine and others trees field. We must across a single mountain pass (4,500m) is the highest point of the trekking, but we are well acclimatized to the altitude before we attempt it. We recommend the best season for this trip is late autumn and spring. Late March through April offers the incredible opportunity to see the forests burst into color as the six to seven rhododendron species blooming around the whole destination before get to Base Camp of Mount Ganesh Himal. Autumn & spring season is best time for Ganesh Himal climbing but we Himalaya Journey Trekking arrange around the year as per mountaineers holiday frame.
Mt. Ganesh Himal expedition itinerary:
Day 01: Arrival in Kathmandu 1334m, Himalaya Journey Treks and expedition's airport representative will pick up you from Kathmandu International airport – transfer to hotel and Mt. Ganesh Himal expedition briefing with officially arrangements. overnight at Kathmandu hotel.
Day 02: After breakfast, excursion around Kathmandu valley, our representative will procedure for Mount Ganesh Himal expedition permit and preparation for Mount Ganesh expedition. overnight at Kathamndu.
Day 03: After breakfast, Katmandu drive to Shyabru bensi (1420 m) by local bus . Local bus drive approximately 7-8 hours but if you want to go by private jeep will be possible so we will arrange overland transportation by as your wish.
Day 04: Trek Syabrubesi to Paragoan walk approximately 5-6 hours
Day 05: Trek Paragoan to Garthali walk approximately 5-6 hours
Day 06: Trek Garthali to kalo Tuppa walk approximately 5-6 hours
Day 07: Trek Kalo Tuppa to Thangjung Kharka walk approximately 5-6 hours
Day 08: Trek Thangjunga Kharka to Sanjung Kharka walk approximately 5-6 hours
Day 09: Trek Sanjung Kharka to Mount Ganesh Base Camp walk approximately 5-6 hours
Day 10 -25: Climbing Period for Mount Ganesh Expedition 7429m
Day 26: After summit trek back to Mount Ganesh Base Camp
Day 27: Trek Base Camp to Thangjung Kharka walk approximately 5-6 hours
Day 28: Trek Thangjung Kharka to Garthali walk approximately 5-6 hours
Day 29: Trek Garthali to Chilime walk approximately 5-6 hours
Day 30: Trek Chilime to Syabrubesi walk approximately 5-6 hours
Day 31: Syabru bensi by bus drive back to Kathmandu. Drive approximately 6-7 hours. transfer to hotel Overnight at Kathmandu
Day 32: After breakfast, HJT tour guide will take to you historical monuments sightseeing around Kathmandu valley such as Boudhhanath : visit Bodhnath Stupa, one of the biggest Buddhist shrines in the world, where we observe Buddhist monks in prayer in the monasteries surrounding the stupa than visitPashupatinath: the most famous Hindu temple in the country, located on the banks of the holy Bagmati River. Here you see Hindu holy men (sadhus) meditating, pilgrims bathing and occasionally funeral pyres burning on the ghats. Kathmandu durbar square: you will enjoy with different Hindus Temple, Goddes Kumari, legend of kathmadu valley and in the evening farewell dinner in Nepalese restaurant. Overnight at Kathmandu
Day 33: After breakfast, Relaxing/shopping with own activities , Himalaya Journey Treks & Expedition's representative will drop to Kathmandu international airport for onward journeys or if you have time to stay in Nepal will arrange any other trip such as Chitwan Junlge safari tour, Lumbini tour, Chitwan jungle safari tour , river rafting etc.
Trip Cost:[email protected]
ervice includes:
Airport pick up and drop
All land transportation: Airport /Hotel/Airport, trekking, expedition pick up & drop.
5 Nights Accommodation in Kathmandu at a tourist class Hotel on bed & breakfast plan as per given itinerary.
Transport as per itinerary for members, staff and Liaison Officer.
Transportation of all food and climbing equipments to base camp and back.
Mt. Ganesh Himal expedition permit fee/Royalty
Full board basis veg/ non veg meal during the trekking prepared by expert trekking cook
All kitchen equipments; kitchen tent, dining tent, toilet tent, chairs and tables at the base camp.
Cook and Kitchen boys at the base camp.
Base camp tents for members and staff.
Per Person 45 KG. Equipment's luggage / barrels allowed till to Base Camp.
Equipment allowance, wages and insurance for base camp staff and Liaison Officer.
Langtang National park permit
Trekkers Information Management system card( TIMS card)
Kathmandu - Syabrubensi - Kathmandu overland transportation by tourist bus.
Office Service charge.
Insurance for Nepalese staff.
Trekking/ climbing Guide, , porters salary, fares and taxes.
All program as mentioned in itinerary
Airport drop
Service does not include:
Lunch and dinner during your stay in Kathmandu .
Airfare from / to your country.
Nepal entry visa fee. (Can be obtained at the airport upon arrival).
Hotel after 5 Nights stay in Kathmandu.
Service above Base Camp.
Personal climbing gear and equipment above base camp.
Walki -Takie permit & Satellite phone permit.
Oxygen & Mask -regulator for climbing.
Climbing Guide (Sherpa)
Personal insurance such as travel, accident, medical and emergency evacuation.
Nepal custom duty for import of expedition goods arriving to Nepal by air or road.
Expenses of personal nature such as drinks, laundry, postage, telephone, etc.
International airport departure tax & tourist tax.
Tips and climbing bonus.
Garbage deposit US $ 2000.00 for a team. After expedition deposit will be refundable.
Tipping /Tips(Tipping is Expected).
Photo gallery
Please click on thumbnail image to have larger view.
Useful Information:
Ganesh Himal expedition is known as Ganesh Himal climbing is most popular expedition in Ganesh Himal trekking trails offer beautiful Himalayan views of Annapurna region, Langtang region, Rolwaling region & Tibetan Himalayan range.
Similar Expedition in Nepal