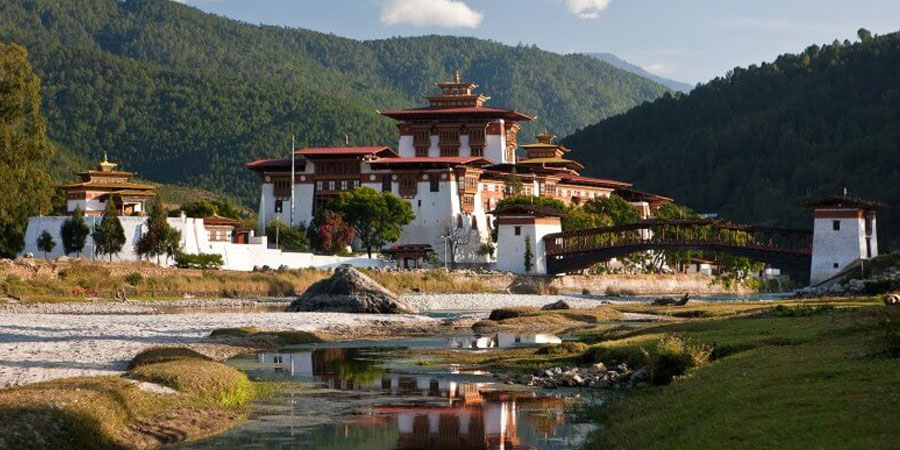 Bhutan Discover tour | Bhutan package tour : Himalaya Journey Trekking
Bhutan discover tour is popular package tour in Bhutan. Bhutan discover tour is known as Bhutan package tour which cover almost popular sightseeing site of Bhutan. Bhutan tour package include Paro Thimpu Punakha Trongsa Bumthang Ura valley shukdrag Gompa Phobjikha valley. Bhutan discover tour required Bhutan travel permit which get through legal Bhutan travel agency. Himalaya Journey Trekking co – operate Bhutan tour company for arrange all travel permit. Autumn & spring season is best time for Tour in Bhutan but we Himalaya Journey Trekking arrange around the year as per travelers wish and holiday frame. Minimum two weeks required for Bhutan discover tour which provide life time unforgettable journeys.
Bhutan Discover tour itinerary:
Day 1: Arrive Paro International Airport
During the flight, on a clear day, you can see breathtaking views of the Himalaya Mountains, including the sacred Jumolhari and Jichu Drake peaks in Bhutan. On arrival you will be greeted by Himalaya Journey Treks and expedition and transferred to your hotel.
After lunch you will visit the Paro Dzong. It was built in 1646 and now houses government offices and religious institutions. You will also visit Kyichu Temple, the oldest temple in the country. In the evening you can explore the Paro town. Overnight in Paro.
Day 2: Paro to Thimphu
After breakfast you will visit the National Museum in Paro, formerly the watchtower for the dzong. It now houses a collection of fine arts, paintings, thankas, statues, and antiques. In the afternoon, you will drive to Thimphu, the capital of Bhutan, and absorb the lifestyle of the people. You can also visit some interesting handicraft shops. Overnight in Thimphu
Day 3: Thimphu sightseeing
You will visit the King's Memorial Chorten (built in memory of the third King of Bhutan who reigned from 1952-1972), Changgangkha Monastery, the radio tower (for a great view of Thimphu Valley and the Thimphu Dzong), and the zoo, which contains the national animal of Bhutan: the takin. From there you will visit the nunnery temple, the National Library (which houses ancient manuscripts), and the School of Arts and Crafts (also known as the painting school). After a relaxing lunch, you will visit the National Institute of Traditional Medicine, a traditional paper factory, the majestic Tashichodzong, and Simtokha Dzong (the oldest fortress in the kingdom). Overnight in Thimphu
Day 4: Thimphu day hike to Tango and Cheri monasteries
You will drive 12km north of Thimphu to hike to Tango and Cheri monasteries. It will take about 45 minutes to hike to the monastery. Tango Monastery is a Buddhist college, and it's the residence of the Desi Tenzin Rabgye, a young boy who is the reincarnation of the 16th-century monk who built Tango. You will then hike to Cheri monastery, which is also about a 45-minute hike. Afterward, if you wish, you can wander through Jigme Dorji Wangchuk National Park. Overnight in Thimphu
Day 5: Thimphu to Punakha
You will drive to Punakha. The drive takes you across the Dochula Pass (10,230 ft) which is marked by a large Bhutanese chorten (Buddhist monument) and prayer flags. You will stop on the pass if the weather is clear, you will take in beautiful views of the high peaks of the eastern Himalayas. The road to Punakha winds down from the pass, meandering through magnificent pine and rhododendron forests, giving you a glimpse of some of the most picturesque countryside in Bhutan.
In the afternoon you will visit Punakha Dzong, which is noteworthy both for being one of the most beautiful dzongs in Bhutan and also for having been built by the first Shabdrung in 1637. You will then visit Khamsum Yulephelma Chorten in Punakha. You will visit Wangduephodrang Dzong and you can explore the small town of Wangdue. Overnight in Punakha
Day 6: Punakha to Trongsa
You will begin the day by driving to Trongsa, the ancestral home of the royal family. You'll pass through dense forests of oak trees and rhododendrons. The route is along a spectacular winding road, crossing 3,300-meter-high Pele La, and at certain times of year it's possible to see yaks. In the afternoon you can browse through the Trongsa shops. Overnight in Trongsa
Day 7: Trongsa to Bumthang
In the morning you'll visit Trongsa Dzong, the masterpiece of Bhutanese architecture, and you'll also see Ta Dzong, the watchtower built to defend this dzong. You can spend the afternoon exploring the town
In the afternoon, you'll drive to Bumthang. Along the way you will stop at a yethra (textile weaving) factory, where the yethras are designed with patterns unique to Bumthang, and you can even watch some of the weavers at their looms. You can spend the evening exploring through Bumthang town on your own. Overnight in Bumthang
Day 8: Bumthang sihgtseeing
You will be spent the day sightseeing in the area, including Jakar Dzong, the administrative center of the valley; the Udee woodcarving factory in Jakar; Jambey Lhakhang, one of the oldest monasteries in Bhutan, dating from the introduction of Buddhism in Bhutan; and Kurjey Lhakhang, one of the most sacred places, because Guru Rinpoche left his body imprint on the cave when he was meditating and Tamshing Lakhang where you will see oldest paintings in Bhutan. You can spend the evening strolling through Bumthang town. Overnight in Bumthang.
Day 9: Day trip to Ura valley
Day excursion to Ura Valley. The road to Ura Valley is off the main road, and this enjoyable excursion will provide a nice view of the Jakar Dzong. You'll make a stop in Ura village for lunch and will have a chance to visit the main temple and explore the village. Ura Village has a medieval look to it because of the cobblestone streets, and the typical clothing of the women includes a sheepskin shawl. On the way back from Ura you can stop to see Mebar Tsho (Burning Lake). In the evening you can visit local shops. Overnight in Bumthang
Day 10: Bumthang day hike to Shukdrag Gompa
You will hike up the Thangbi Valley to Shukdrag Gompa, a meditation monastery built around a sacred cave in which Guru Rinpoche, founder of Tantric Buddhism, meditated in the 8th century.As you hike through Thangbi village, you will see beautiful traditional farm houses, smiling children, and hard-working farmers. On the way to the Gompa, you will pass a small hut with a stone grinding wheel, turned by water and used by the local people to grind buckwheat.
Day 11: Bumthang to Phobjikha valley
You'll drive to Phobjikha valley, the winter habitat of the black-necked cranes. The drive is through dense forests of oak trees and rhododendrons. You arrive at Gantey Goempa, the only Nyingmapa monastery in western Bhutan. In the afternoon you will visit Gantey Rinpoche's monastery and you can explore Phobjikha valley, the winter habitat of the black-necked cranes.Overnight in Phobjikha Day 12
Phobjikha to Thimphu
You'll drive to from Phobjikha valley to Thimphu. In the afternoon you can explore Thimphu town and do last minute shopping. Overnight in Thimphu
Day 13: Thimphu to Paro (hike to Tiger's nest monastery)
After breakfast you will drive to Paro. In the afternoon you will hike to Taktsang (Tiger's Nest) Monastery, which is Bhutan's most famous monastery. It is perched on the edge of a steep cliff, about 900 meters above Paro Valley. The hike to reach the viewpoint to the monastery makes for a nice half-day excursion. You can also visit some interesting handicraft shops. In the evening you can stroll through the Paro town. Overnight in Paro.
Day 14: Depart Paro
After breakfast, relaxing or shopping then three hours before departure , Himalaya Journey Treks & Expedition's airport representative will drop to you Paro airport for onward journey.
Trip Cost: USD $1450 Per person
Bhutan Discover Tour Cost Includes:
All land transportation: Transfers and sightseeing by a deluxe vehicle and Airport /Hotel/Airport & tours pick up & drop).
Hotel accommodation on BB basis ( three star catagory hotel) on twin sharing room as mentioned in itinerary
3 time meals during the Bhutan Discover tour breakfast, Lunch and dinner.
1 Professional English speaking local tour guide as mentioned in itinerary
Bhutan sightseeing tour with private vehicle as mentioned in itinerary
Bhutan l temples, monuments sightseeing entry fees.
Bhutan visa, tourism development fees, government royalty fees.
All applicable taxes.
Daily wages for support crews and their health insurance.
Basic first aid Medical Kit Box for support crews.
All official taxes and service charge.
All program as mentioned in itinerary
Bhutan paro airport drop
Bhutan DiscoverTour Cost Doesn't Include:
Personal transportation except above programs.
Personal tours gears.
Personal Nature expenses. (Extra expenses incurred due to unforeseen circumstances such as sickness, accidents, road blockage, and other occurrences beyond our control.)
Emergency evacuation (If incase).
Drinks except tea and coffee. (Bar Bill, laundry and telephones calls.)
Airfare: to & from your country and internal domestic flights.
Personal travel insurance. (Liability for insurance against sickness, accidents, loss of baggage, loss of life and medical expenses if any kind etc.)
Emergency rescue evacuation if needed
Purely personal nature expenses
Tipping /Tips(Tipping is Expected).
Photo gallery
Please click on thumbnail image to have larger view.
Useful Information:
Useful info